Michoacan, Purepechans, & Ocumicho
Michoacan is a state on the west coast of Mexico, with part of it bordering the Pacific Ocean. Unlike a lot of parts of Mexico that have changed over time to bring in more tourism, Michoacan has maintained a lot of its original charm.
One of the most beautiful and culturally important parts of Michoacan are their people. Michoacan is known for its beautiful and diverse indigenous population. One of the most dominant groups in the region are the Purepechans. The Purepechans and their magnificent artwork contribute greatly to the spirit of the country and the fabric of what makes Mexico, well… Mexico!
A favorite small village of mine with great history and especially known for their artwork is the tiny town of Ocumicho, which is mostly inhabited by Purepechan people. It is a rural town famous for its price-winning figurines full of mischievous and playful characters. These handmade sculptures feature strange scenes that combine everyday life, religious beliefs, and local folklore that meshed and mixed to create these whimsical, one-of-a-kind sculptures. Some may consider Ocumicho pottery as an aquired taste. It is definitely a bit weird, brightly colored, and executed in child-like form, but it definitely has an absurd humor about it that makes you love it!
It is definitely no easy task to make these sculptures. Artists must first mine for the clay with picks and shovels. These are then carried on the backs of mules to their village. Any impurities are removed from the clay, small amount of water is added, and then it is covered waiting to be transformed. The artist sculpts the desired figures then burnishes it to have a smooth finish. It is then dried in the shade for a day, then moved to the hot village sun to finish drying. The clay is fired in a circular kiln that is open at the top at a low temperature. After the artwork is cooled the sculptures are painted in bright colors with handmade paintbrushes. Some signed and others not. Although it is a long process, you can find these sculptures all through Ocumicho. It is part of their identity!
One of Ocumicho's most famous characters is the devil. Some say there is a little devil in all of us, others say that devil's temptation is always around. Although there are various stories about how this character came to be in their art, it can be found in various sculptures.
The following example shows Devils at Play at a Bar:
Another beautiful piece is this sculpture of Girl Riding Devil Dog:
However, not all of Ocumicho's folk art has the devil. There are times where their beautiful art purely depicts the everyday life in this small town. Everything from the fruit stands to the "puestos in the mercado" (stands at the market).
On this one, we love the detail that went into creating this scene. Everything from the stand and the owner, to the customers and the seamstress, and even the dog who found some shade!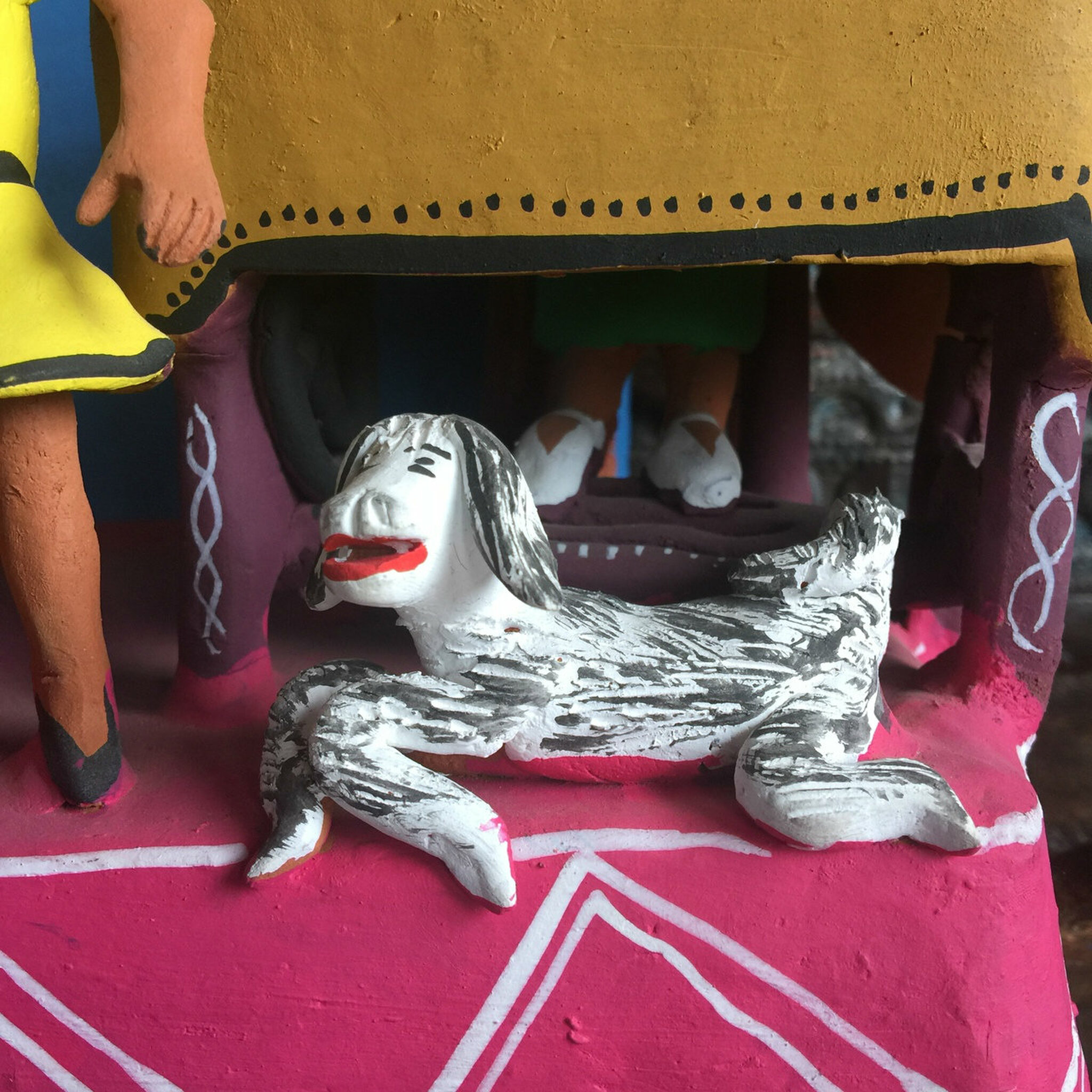 Another scene that depicts everyday life in Ocumicho (or Michoacan in general) is this fruit stand sculpture. If you've ever been to Michoacan, you know you can't go out without finding multiple fruit stands in the plaza.
Ocumicho is a place of history and a place of art. It is a place where people take a lot of pride in their Purepecha culture and you can see it through their artwork. Check out our current Ocumicho selection here!