The History of Mexican Talavera
Mexico is known for its rich history, rich culture, and beautiful art! Handmade pottery, ceramics, and textiles have become trademarks of the Mexican folk art, but one of the most sought after is the Talavera. This beautiful ceramic art has gained worldwide acclaim for its high quality, beauty, colors and patterns.
In the 16th century and the during the Spanish colonization of Mexico Spanish monks and artisans began sharing new techniques with the local natives in the city of Puebla,. They introduced the potter's wheel and tin-glazing, along with new colors and patterns. This led to the blend of centuries of indigenous craftsmanship with the styles of European/Asian/Arab style of pottery and ceramics. As a result, the Mexican Talavera was born! Puebla, Mexico became the original home of authentic Mexican Talavera and it is where the first potter's guilds were formed in order to set standards and regulations for the production of Talavera to protect and preserve their products. The fame of their craftsmanship began to quickly spread. Churches and monasteries were decorated with vibrant Talavera products, everything from tiles, jars to religious figures. It did not take long for the demand to grow well beyond the borders of Mexico. Talavera began to be exported back to Europe, the United States and other countries.
The production of Talavera, however, has not been confined to Puebla. Cayetano Corona Gaspariano, a Mexican potter from San Pablo del Monte, Tlaxcala, is an authenticated producer of Talavera ceramics. At the age of 13, he left his home state to learn the craft in Puebla. In 1981, he decided to return to his hometown and founded his own workshop with his sons, currently known as La Corona Enterprise. Corona is the only authenticated producer of Talavera in the state of Tlaxcala. Because of its certification, the Corona family can sell its beautiful Talavera tibores, flowerpots, jars, platters, tiles, in upscale markets and export with authenticity. In 2001, Cayetano Corona Gaspariano was named a Grand Master and it is his work that we proudly carry in our shop. You can see his expertise in his attention to detail and the high quality of this beautiful Talavera art.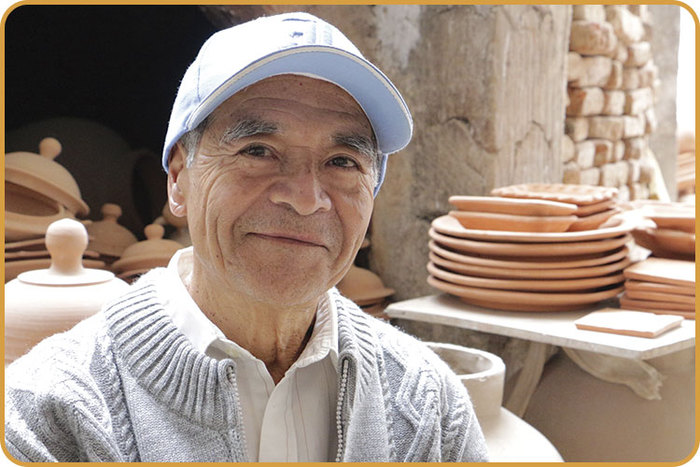 (Cayetano Corona Gaspariano)
We believe that in order to fully appreciate something, you must know its background and where it came from. There is no doubt that knowing the rich history history and how an unlikely mesh of cultures came to make such beauitful art, defintely adds to the beautify of thse handpainted talavera pieces!